About: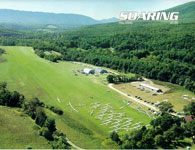 The Blue Ridge Soaring Society is a 501(c)(3) located near New Castle, Virginia in scenic Craig County
The mountain ridges running through the area provide great ridge flights for long cross country flights. When weather conditions permit, wave flights are also possible.
Annual Region 4 South Contest:
Every September, the BRSS hosts the Region 4 South contest. One of the most notable contests was in 1990, when 17 of the 25 pilots completed a 1000 km task, covering ridges in 4 states.
Facilities:
Ground facilities include a club house with full kitchen, great room, and dining room. There is a large campground with utility hookups and a shower house. Most social activities are centered around a large, covered picnic pavilion and bon fire ring.
Club Fleet:
Our club glider fleet includes two L-23 Super Blaniks, one L-33 Blanik Solo, one ASK-21 and a high performance LS-6b. The club's tow planes are a CallAire and a 235hp Pawnee. In addition, about 20 privately owned sailplanes are based out of New Castle International Gliderport.